S.A.F.E. SUMMER CHAMPION 2017: SUZI ROUSE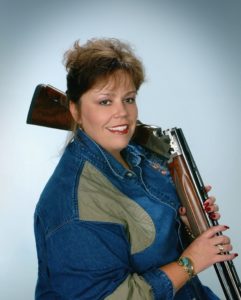 Since taking up shooting in 1996, Suzi Rouse has been an active advocate for responsible and safe firearms storage. Suzi is the Oklahoma City Gun Club's first female president in the club's 60+ year history. Suzi has been an instrumental partner for Project ChildSafe's Focus Community in Oklahoma City. We are thrilled to recognize her as one of 2017's S.A.F.E. Summer Champions.
Project ChildSafe: Why are firearms safety and responsible storage of firearms when not in use important?
SR: Safety and education are the first steps in responsible firearms ownership – more important than one's marksmanship skills. Everyone who owns a gun should have a clear plan for safe gun storage options. No matter if you live by yourself or have a family, it is of vital importance to know that your firearms are safely secured. We must all be hypervigilant when it comes to use and storage of firearms in the home. After all, there are no second chances when a firearm accident occurs.
Project ChildSafe: Please tell us a little about the things you do to help promote firearms safety in your community.
SR: I started a women-only instructional shooting clinic 18 years ago, with the help of the NRA Women on Target program, and since then it has grown into the largest shooting clinic in the nation for women. Through this program, we have introduced thousands of women to the shooting world with safety being the primary focus. In addition to the women's clinic, I provide firearms training to dozens of Boy Scout troops in the Oklahoma City metro area so they can obtain their shooting merit badge. Safety with a firearm always wins out over proficiency when it comes to my students.
Project ChildSafe: Please tell us why you support NSSF's Project ChildSafe program.
SR: Project ChildSafe is a fantastic program to provide information and education as to safe storage options. The fact that they provide a safety device for your firearms at absolutely no cost to the public is a true testament to the commitment of the firearms industry. I am proud to be a part of this initiative to educate and empower gun owners to uphold firearms safety and proper use by securing and preventing unauthorized access to firearms.