S.A.F.E. SUMMER CHAMPION 2017: MIKE RAINWATER
Mike Rainwater is a Lincoln Parish Sheriff's Office deputy in Ruston, La., and served as the lead instructor for Louisiana's Hunter Education Safety program for 20 years at the sheriff's office. He has helped educate thousands of young kids for hunter education certification in Louisiana. Rainwater has also led and participated in more than 40 sportsman's educational events over the years.
Project ChildSafe: Why are firearms safety and responsible storage of firearms when not in use important?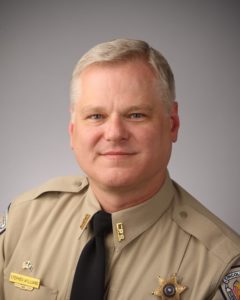 MR: I vividly remember having an accidental discharge when I was young that scared me greatly. It was a tough lesson learned and taught me how important it is to be safe with firearms. When you are handling a firearm, it is of the utmost importance to understand how to use it and safely secure it when not in use. As a firearms owner, you have a responsibility to handle firearms safely. Firearms safety is essential to keeping your home, children and guests safe. As a law enforcement professional and firearms safety instructor, I have a responsibility to educate the public and that is what has driven my support of Project ChildSafe for so many years. Any accident is tragic; there are too many senseless fatalities that are related to firearms and a lack of safety measures taken. Education and safe storage of firearms is the most effective way to reduce firearms accidents.
Project ChildSafe: Please tell us a little about the things you do to help promote firearm safety in your community.
MR: I am the lead instructor for Louisiana's Hunter Education Safety program. We try to hold 10 or more classes a year, where we teach special classes for 4-H and summer camp programs. The types of students can vary but usually the standard classes are full of younger kids. I am also involved in the Louisiana Hunting Heritage Program, a mentorship program that matches a seasoned hunter with a beginner, and focuses on safe hunting over the course of a season. The Sheriff's Department has been extremely supportive of these efforts and allows me to sponsor these classes.
Project ChildSafe: Please tell us why you support NSSF's Project ChildSafe program.
MR: I find Project ChildSafe to be an invaluable program because safety of firearms in the home is paramount. I believe in keeping firearms locked up when not in use and support any effort to facilitate that critical step in firearms safety. I have always been a supporter of NSSF and got involved in Project ChildSafe years ago after I started handing out gun locks to my community, mostly through the hunter education classes.