S.A.F.E. SUMMER CHAMPION 2017: BUKHARI ABDEL-ALIM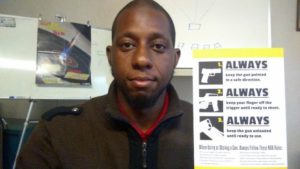 Bukhari Abdel-Alim is a founder of the non-profit TAASAR Group as well as the Blue Eagles Shotgun Team, a youth trapshooting team program. He organizes gun safety and awareness seminars for youth and parents in and around Richmond, Va., to educate his community about the importance of gun safety awareness at the range and at home. As a father of two, Abdel-Alim takes educating youth about gun safety personally and has shown a continued commitment toward making his community an environment that respects and safely stores firearms.
Project ChildSafe: Why are firearms safety and responsible storage of firearms when not in use important?
BA: Like a motor vehicle, firearms have varied purposes or intended uses. Firearms could be used for sport, leisure, to put food on the table, a tool in your line of work or even a special piece of a collection. Also, a firearm should be used only by someone legally authorized to use that firearm. We wouldn't give car keys to a 12 year old and say "Have at it!" Firearms safety means personal, family and community safety. By understanding and implementing firearms safety every time a firearm is present, we are ensuring that the people we love and care about are not put in harm's way through actions that are unsafe and avoidable.
Project ChildSafe: Please tell us a little about the things you do to help promote firearms safety in your community.
BA: For the last four years, I have coached the Blue Eagles Shotgun Team based in Richmond. The team was initially formed to teach youth ages 12-17 proper firearms safety, with a mix of classroom learning and hands-on shooting experience in a safe environment. These efforts have helped children learn critical proper and safe firearm handling skills. This has also opened the door to educating parents on firearms safety and safe storage practices, if they already own or are considering purchasing a firearm.
This year, I have also started offering free-to-the-public "Firearm Safety, Awareness and Negligence Prevention" seminars conducted in the Richmond and Henrico County Libraries. This format is focused on reaching the local community and having these discussions to further educate people so they can encourage and increase safe firearm practices. Forums of this type do not always reach urban and suburban areas, and I hope to continue educating people with the right information that makes a difference.
Project ChildSafe: Please tell us why you support NSSF's Project ChildSafe program.
BA: NSSF has always been a valuable resource of firearms safety information. With Project ChildSafe, I feel an even larger spotlight is shone on firearms safety and responsible storage. People like myself are always looking for a better way to share information with our audience, and Project ChildSafe delivers that on many levels. Being able to download data and materials, share videos and connect with others that support Project ChildSafe makes it easier for people all over the country to spread the message of firearms safety. Another great aspect of the program is that it makes free gun locks available, through law enforcement, to gun owners, helping them more easily practice firearms safety at home.