S.A.F.E. SUMMER CHAMPION 2017: BARBARA BAIRD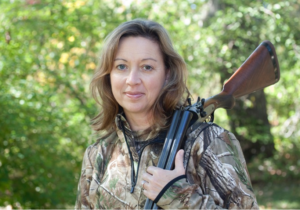 A freelance writer/editor, Barbara Baird publishes an e-zine, Women's Outdoor News, and writes for several firearms, travel and outdoor publications. She is a contributing editor at SHOT Business and her bylines have appeared in National Shooting Sports Foundation (NSSF) publications, National Rifle Association (NRA) publications, Show Me Missouri, Missouri Life, Rural Missouri, St. Louis Post-Dispatch and Field & Stream.
Along with editorial duties, Baird is the co-host of a national podcast, "The Women's Gun Show," with Carrie Lightfoot, of The Well Armed Woman. Sponsored by Ruger and NRA Women, the weekly podcast focuses on women and shooting, along with timely and trending firearms news topics, product reviews, guest interviews and an insight into the fast-growing world of women and gun ownership. It can be found on iTunes, Stitcher and iHeart Radio.
Baird is also the leader of The Well Armed Woman, Top of the Ozarks Chapter, a certified NRA pistol instructor and continuing student of personal defense shooting skills. She lives in the Missouri Ozarks, with her husband, Jason. They have 4 children and 6 grandchildren.
Project ChildSafe: Why are firearms safety and responsible storage of firearms when not in use important?
BB: Safe storage of firearms is an integral part of gun ownership. It is so important that guns never become easy targets for those who should not have them, such as criminals, individuals with certain mental health challenges and, of course, children.
Project ChildSafe: Please tell us a little about the things you do to help promote firearms safety in your community.
BB: At Women's Outdoor News, we continually integrate the message of "Own It? Respect It. Secure It." through our content – whether it's a gun review or a story about a hunting trip. We are running a series of gun reviews sponsored by Liberty Safe, which always recommends using a safe for storage. We are also producing a video series this year on Project ChildSafe featuring some of the outdoor industry's prominent women hunters and competition shooters, along with other notables, in which they talk about forms of safe storage. For example, Melissa Bachman discusses the gun vault beside her bed for home defense and Julie McQueen gives tips on how to travel safely with firearms. There are more videos to come and we're excited to be partnering with NSSF in this venture.
Project ChildSafe: Please tell us why you support NSSF's Project ChildSafe program.
BB: It just works. I recently interviewed Bill Romanelli, spokesperson for NSSF's Project ChildSafe Program, for Episode #57 of "The Women's Gun Show," in which he mentioned the success stories associated with the program and the fact that more than 37 million locks have been distributed across the country. With the support of government agencies, including wildlife divisions, the program is getting grassroots support and boots on the ground in areas where we need it most.