PROJECT CHILDSAFE PARTNER PROFILE: SHERIFF MARK WASYLYSHYN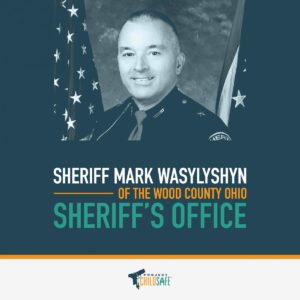 Name: Mark Wasylyshyn, Sheriff
Department: Wood County Ohio Sheriff's Office
How does your agency distribute Project ChildSafe gun locks and safety materials in your community?
Project ChildSafe is very present in Wood County. We do our best to make firearms safety a key topic of conversation at our office and in the community. A few of the ways we engage with residents include:
Offering gun locks and materials to citizens when they apply for their concealed carry license.
Distributing locks and information to people at our county-wide employee picnic.
Sharing information and safety kits with attendees at our county fair.
Giving these items to graduates of our Citizen's Police Academy for additional visibility.
Finally, making gun locks and safety materials available to citizens upon request throughout the year.
Citizens can also take advantage of additional resources from Project ChildSafe through its online Resource Library. In addition to resources for law enforcement agencies, we also promote materials available for parents (such as a video guiding parents on how to have a conversation about firearms safety with their children) and educators (such as lesson plans featuring McGruff the Crime Dog on how to talk to students about the importance of gun safety).
Why does your department partner with Project ChildSafe?
Project ChildSafe supplies us with the free gun locks, which saves our office from taking away valuable dollars from other pressing needs within the Sheriff's Office. Project ChildSafe's generosity allows us to give these locks away at no cost to gun owners within our community.
I recently learned that Project ChildSafe marked its 20th anniversary in 2019, having distributed more than 38 million free gun locks nationwide. We are thankful to partner with them and to be a part of a program that promotes the importance of firearms safety and safe storage in our community. I feel the impact that firearms safety education has on our community and know it is helped made possible through programs like Project ChildSafe.
How has access to free gun locks and safety materials impacted your community?
No one can measure the impact or number of lives saved from having a gun lock. Our goal is to help keep our community safe, and having a gun lock is one simple step firearms owners can take to help ensure the safety of their loved ones.
We understand that many individuals have tight budgets in our community and may not want to pay for gun locks or other safe storage devices. Project ChildSafe takes away excuses for not using gun locks and provides the materials and resources to practice responsible firearms ownership and safe storage.
How can residents in your community and communities across the country become more involved in spreading the message of safety?
Having people contact their friends and families about the importance of safety is priceless. The Sheriff's Office is always putting out safety information to the public, but it is much more powerful when it comes directly from friends and family. Please share our messages, including those from Project ChildSafe, on social media to help spread the word about safety in our community. You can follow the Wood County Sheriff's Office on Twitter, and Project ChildSafe on Twitter, Facebook and Instagram.