PROJECT CHILDSAFE PARTNER PROFILE: OFFICER DANIEL WIECHMAN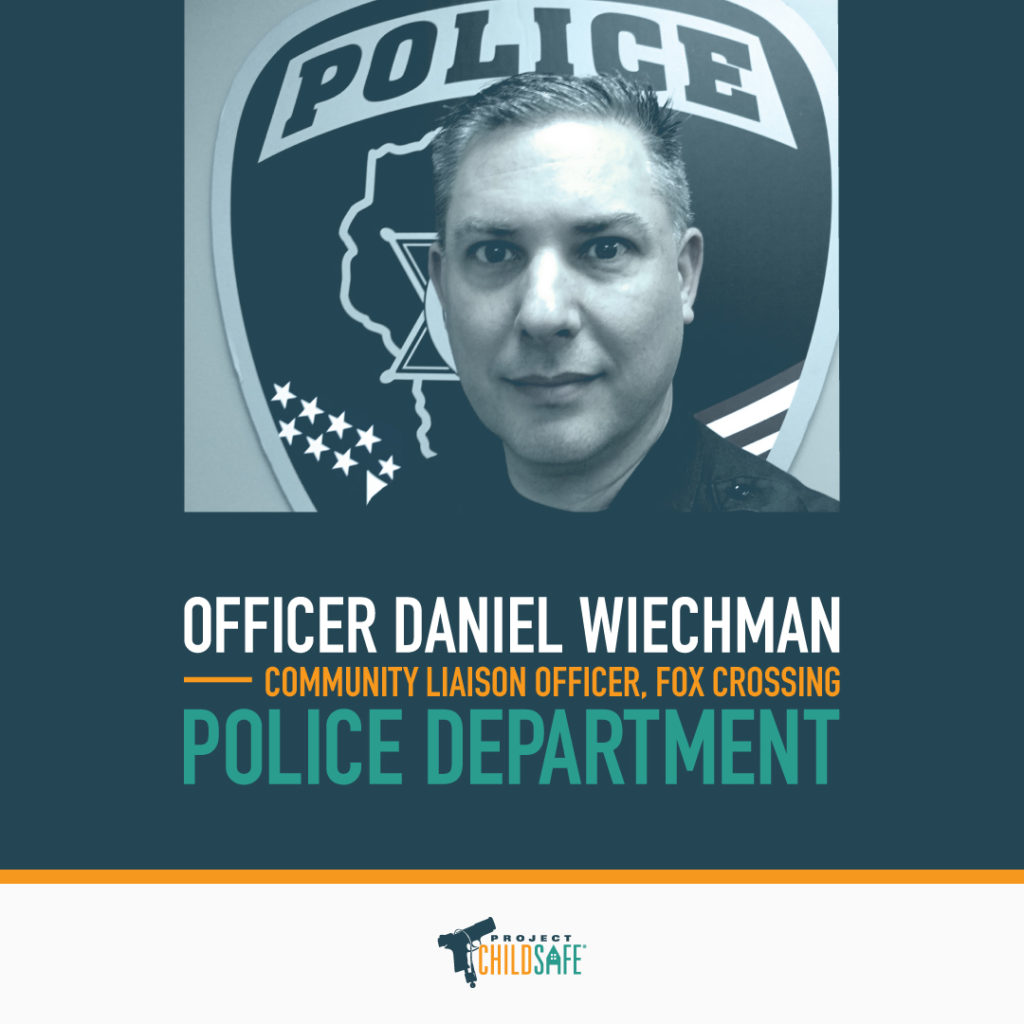 Name: Officer Daniel Wiechman (Community Liaison Officer)
Department: Fox Crossing Police Department – Neenah, WI
How does your agency distribute Project ChildSafe gun locks and safety materials in your community?
Our agency makes Project ChildSafe's gun safety materials and locks available year-round via a display at our lobby window. We also bring all safety materials for our booth that we staff at local events throughout the year, like our Safety Day, which is held in conjunction with our other local public safety branches, including the fire department. Additionally, there are other events held by corporate partners who have requested our presence, and we make the Project ChildSafe materials and locks available to their employees as well. These events serve as an opportunity to connect with residents and ensure that they have the tools and education to practice safe firearm storage in the home, in vehicles and in any other situation.
Why does your department partner with Project ChildSafe?
Firearm safety is an extremely important topic for everyone, regardless of age. Too many individuals believe firearm safety is just a topic to discuss with young children. Project ChildSafe, as well as the Fox Crossing Police Department, want to ensure firearm safety is top of mind for gun owners and non-gun owners alike by promoting resources that help make this conversation easier.
Through our partnership with Project ChildSafe, we hope to increase community-wide awareness of the importance of responsible gun ownership, as well as the availability of free gun locks and educational materials to community members.
How has access to free gun locks and safety materials impacted your community?
I have personally had conversations with local residents who appreciate the locks. Many residents come with the expectation that the locks are for purchase, and we are always proud to report that they are free. Residents have also shared that their current methods of firearm storage were not nearly as safe as they should be, and they were eager to put the locks to good use. These are the ways – big and small – that we see Project ChildSafe helping promote and encourage gun safety in Wisconsin.
How can residents in your community and communities across the country become more involved in spreading the message of safety?
A key step to helping underscore the incredibly important topic of secure firearm storage stems from simply sharing the Project ChildSafe message and educational materials with friends and family. This small step will help strengthen our community.
Anyone who may not be familiar with Project ChildSafe should take the opportunity to watch how to properly install a firearm safety lock. This is a perfect opportunity for the firearm owner to openly discuss the importance of firearm security and safety, and in turn, promote such an invaluable program.
For more information about Fox Crossing Police Department's upcoming safety events, visit the department's website.
You can review and download Project ChildSafe's many educational resources through the program's resource library.