PROJECT CHILDSAFE PARTNER PROFILE: MATTHEW D. WEINTRAUB, DISTRICT ATTORNEY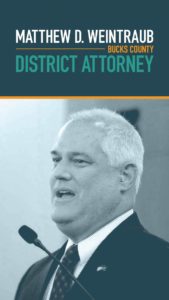 Name: Matthew D. Weintraub, District Attorney
Department: Bucks County District Attorney's Office
How does your agency distribute Project ChildSafe gun locks and safety materials in your community?
We distribute Project ChildSafe gun locks and materials through community partnerships. We feel the need to educate gun owners and non-gun owners alike on the value of firearms safety and safe storage. In our community Benjamin Smith, a two-year-old boy who accidentally shot and killed himself with his father's gun, inspired us to form Ben's Campaign. This campaign helps to spread the word in the media about the importance of secure storage of firearms and to garner the support we needed to reach individuals in the community to help make a difference.
From the beginning of the campaign, we knew that it wasn't practical for the residents of Bucks County to get gun locks solely from us. To assist us, we enlisted the help of our local police departments, the Bucks County Sheriff's Office, Bucks County Children & Youth and our friends at the Bucks County Network of Victim Assistance (NOVA) to expand our reach countywide.
Since 2017, the partner agencies have become community pick-up locations for locks. Folks only need come in and ask. In addition, our police departments distribute locks at various events throughout the county, and the sheriff's office offers them to anyone applying for a concealed carry permit. This strategy has been a huge success and has resulted in the distribution of countless gun locks.
NOVA, who makes sure each gun lock comes packaged with gun safety information, has estimated that we have distributed thousands of gun locks to our community through this effort. Demand for more the gun locks is so high that we can barely keep them in stock.
To help expand our reach, we're now in the process of partnering with additional agencies, including the Bucks County Area Agency on Aging, the Lenape Valley Foundation and the Central Bucks Rescue Squad. Beginning this spring, we will provide free gun locks to households where people are suffering from dementia or who are at risk of suicide. We hope to help these households store their guns safely and avoid tragedies in their homes.
Why does your department partner with Project ChildSafe?
Community safety is paramount to our mission. With the heartbreaking passing of Ben Smith, we immediately recognized a safety deficiency that we needed to remedy. Project ChildSafe shares our dedication to gun safety and provided us with the free gun locks needed to realize our vision, while maximizing the benefit to our residents and taxpayers.
How has access to free gun locks and safety materials impacted your community?
Since Ben's Campaign began in 2017, Bucks County has not had a single accidental child death involving a firearm. There is no question that with thousands of Project ChildSafe's free gun locks in our community, our children are now safer. Our hope is that with increased and ongoing education and awareness, we can help ensure no child has unauthorized access to firearms.
How can residents in your community and communities across the country become more involved in spreading the message of safety?
We all have a duty to protect our children. Start by keeping your own weapons locked and unloaded when not in use. Once your guns are safely stored, help spread the message and let others know where they can get free gun locks, too. Project ChildSafe also has a variety of helpful safety resources and educational materials including the Project ChildSafe child's pledge, ten tips for firearms safety in your home and a video on how to talk to kids about firearms safety.