PROJECT CHILDSAFE PARTNER PROFILE: DEPUTY CHIEF STEVEN G. XIARHOS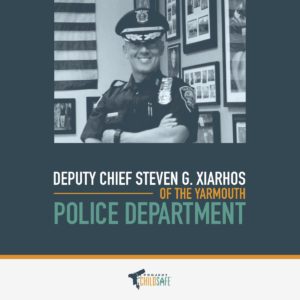 Name: Deputy Chief Steven G. Xiarhos
Department: The Yarmouth Police Department
How does your agency distribute Project ChildSafe gun locks and safety materials in your community?
The Yarmouth Police Department has Project ChildSafe gun locks available 24/7 to members of our community at Police Headquarters.
In addition, we have Project ChildSafe gun locks available at all of our Community Policing Events including Firearm and Ammunition occasions. These events are designed to help citizens safely manage their firearms and ammunition, along with properly and legally turning in items that are no longer wanted.
Why does your department partner with Project ChildSafe?
The Yarmouth Police Department strongly believes in firearms safety education and prevention. The Commonwealth of Massachusetts has a variety of firearms safety laws which include the safe handling, securing and storage of firearms. Partnering with Project ChildSafe has allowed us to help keep our citizens and our children safer.
How has access to free gun locks and safety materials impacted your community?
Our mission is to transform Yarmouth into one of the safest communities in our region. The availability of free gun locks and safety materials is an important aspect of our strategic plan and objective as we move to 2020 and beyond.
How can residents in your community and communities across the country become more involved in spreading the message of safety?
Becoming fully educated and trained in how to properly use and safely secure firearms is critical. Modeling proper, safe behavior at all times sends a powerful message throughout our great community, Commonwealth and Country. In addition, Project ChildSafe has many great safety resources available through its website. Some of these resources include an infographic with different safe storage options, a firearms safety in vehicles brochure and the Project ChildSafe Child's Pledge.