PROJECT CHILDSAFE PARTNER PROFILE: CHIEF CATRINA THOMPSON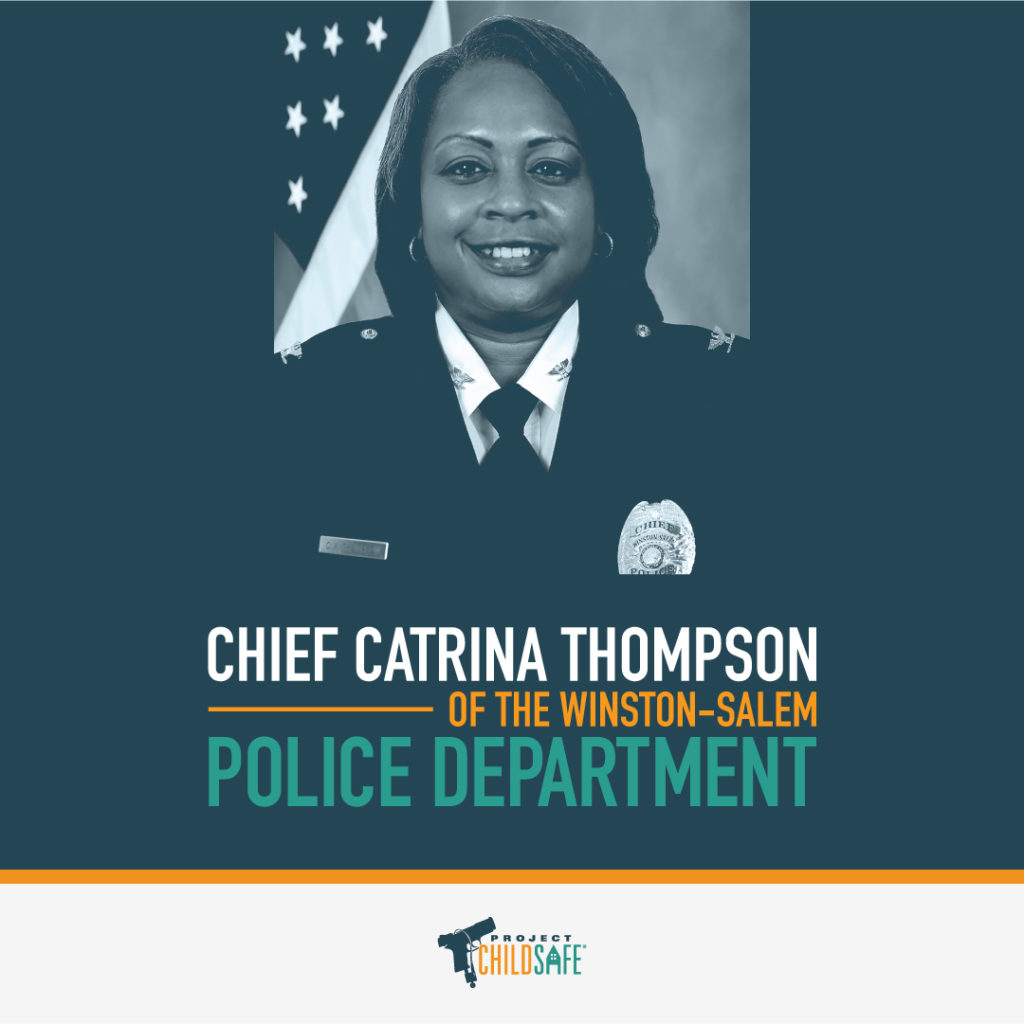 Name: Chief Catrina Thompson
Department: Winston-Salem Police Department – Winston-Salem, NC
How does your agency distribute Project ChildSafe gun locks and safety materials in your community?
Our Evidence Management Section provides a Project ChildSafe lock along with a firearm safety educational brochure with nearly every handgun or long gun that we return to citizens in our community.
Why does your department partner with Project ChildSafe?
Project ChildSafe has provided hundreds of firearm safety kits to our agency over the past 10+ years. We are encouraged by the work that Project ChildSafe is doing to promote safe firearm storage and education in so many communities across the country, including our own.
Many firearm owners have never seen or used a gun lock. We also have citizens who have commented that they had intended to purchase a gun lock but never did. Partnering with Project ChildSafe has given us an opportunity to provide free firearm safety locks for firearm owners within our community who may have not considered using or purchasing a lock on their own otherwise. It is fulfilling to know we are in a position where we can educate others about the need for such a life-saving product.
How has access to free gun locks and safety materials impacted your community?
With access to these free firearm safety kits, we are able not only to educate our community about the importance of firearm safety, but also provide the necessary resources to ensure firearms are safely maintained and stored in our citizens' homes.
Residents can also find additional information and firearm safety resources, including safe storage options and tips for firearm safety at home in Project ChildSafe's resource library.
How can residents in your community and communities across the country become more involved in spreading the message of safety?
We hope that with each Project ChildSafe gun lock that is distributed into our community, owners are talking with their children and families about the importance of firearm safety. While it may be hard to start a discussion with children or loved ones about the importance of firearm safety, it is a critically important step as a firearm owner. Project ChildSafe has resources for parents that can help frame the firearm safety conversation with children.
Just taking one extra step in safely securing a firearm can have a powerful impact on the safety of our friends, families and neighbors in our communities.