2022 Woman of the Gun: Julie Golob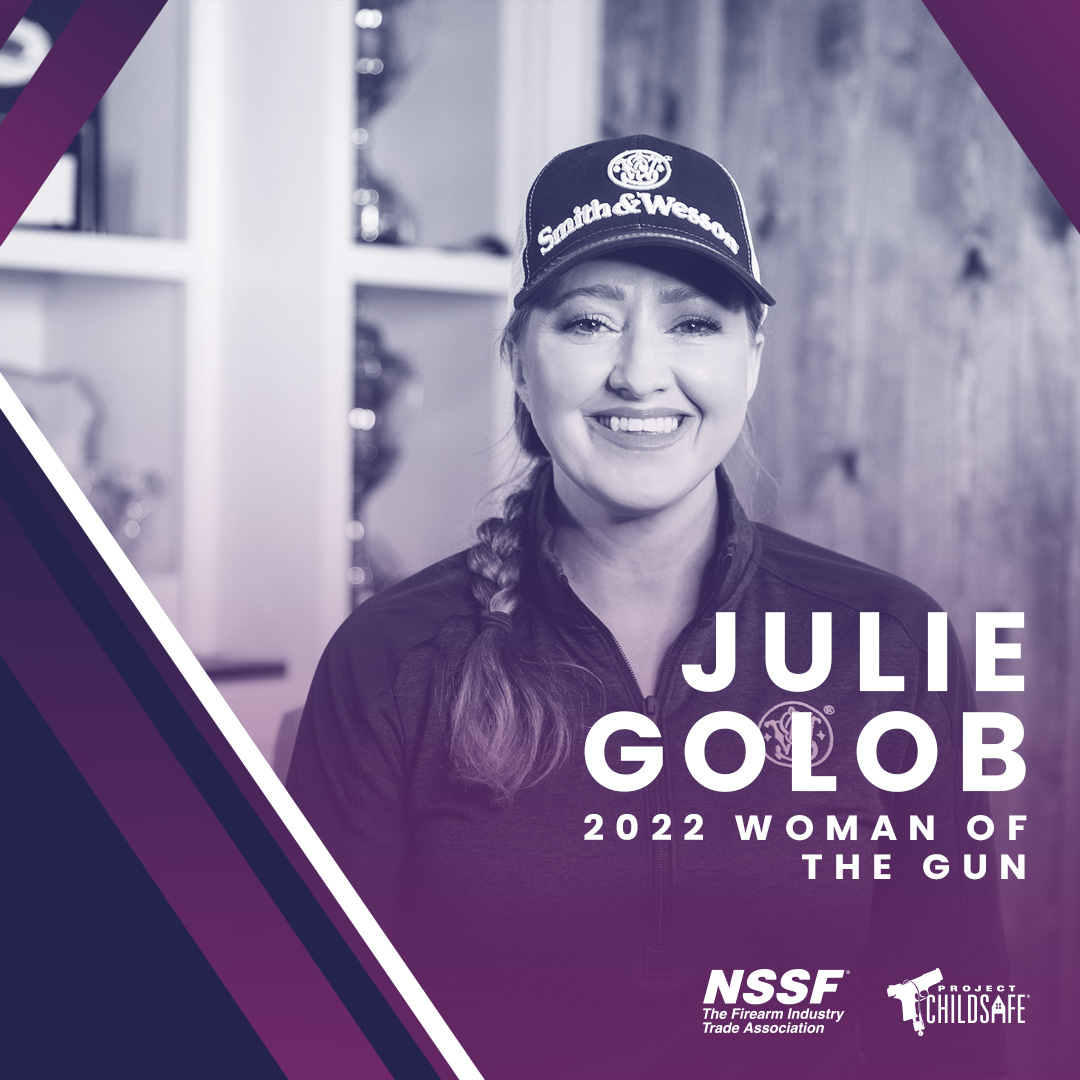 The SHOT Show is the firearm industry's annual trade show which helps provide support for Project ChildSafe and other firearm industry safety initiatives. At SHOT Show 2022, Project ChildSafe proudly hosted the Women of the Gun event, which included the first-ever Woman of the Gun Award. The award, which recognizes outstanding women in the shooting sports industry, was given to Julie Golob for her embodiment of what it means to serve as an ambassador for firearm safety and empowering other women gun owners to do the same.
In addition to being a vocal and notable advocate of firearm safety, Julie earned more than 150 major championship titles, including more than 50 world and national titles, over the past 30 years.
Julie began working with Project ChildSafe in 2013, lending her name and expertise to a host of firearm safety education efforts, including guest columns, social media campaigns, public appearances and videos—including a feature video on how to talk to kids about gun safety.
The Project ChildSafe team recently interviewed Julie about the award and her years spent advocating for responsible firearm ownership and safe storage.
How important is it for female gun owners to contribute their voice to the conversation around firearm safety and safe storage? What unique insights can women provide on the topic?
"Everyone has an important role to play when it comes to talking about genuine firearm safety and the practices that make everyone safer around firearms. When we know and understand the universal messages about gun safety, we can provide valuable perspective and clarity to others. Women are taking increased responsibility for their own safety by purchasing firearms in record numbers. As women, our experiences as daughters, wives, mothers, sisters, students, teachers and leaders help us to reach the people we are drawn to and those who are drawn to us. This reach allows women to be leaders in promoting safe handling and storage through joining women's shooting groups, serving as mentors, seeking trainings, ensuring a safe home environment and more.  The more we can all share our dedication to safety as gun owners, the better!"
What inspires you to be so vocal about promoting firearm safety?
"Even as a young shooter, I learned about the importance of firearm safety. From a young age having discussions with my parents about guns to learning how to hunt and shoot with my father, my time on the range and the field were so special. We had so much fun, but there was always the underlying importance of safety rules and respect. Firearm safety begins in the home and it's something everyone should learn. Becoming educated on these fundamentals leads to a better understanding of how we use guns responsibly for target shooting and hunting and own them for security reasons. Not everyone has family mentors as I did, and being a helpful guide when it comes to this topic is extremely rewarding."
What would you tell women new to firearm ownership, or just starting their journey into the shooting sports, that want to help ensure safety in the home?
"The cardinal rules of gun safety—keeping the muzzle pointed in a safe direction, keeping your finger off the trigger until ready to fire, treating every gun as if it were loaded, and knowing your target and what's beyond it—are foundational to gun ownership. Following safe practices is going to allow you to get the most out of your time spent at the range, learning new types of shooting or getting involved in competition. These and other best practices—such as how to safely conduct yourself at a shooting range or in the field while hunting—build your confidence as a gun owner. I love that there is always an opportunity to improve as a gun owner, and mastering firearm safety and incorporating it into your life is a crucial part of that improvement. Whether it's hunting different types of game, embarking on the journey of carrying a firearm concealed, or challenging yourself in competition to be the best shot you can be, that foundation of safety is where it all begins."
How can more women get involved in spreading firearm safety practices in their homes? With their family? In their communities?
"The simple and easy way to start spreading safety is by starting a conversation. Though initiating the topic might be uncomfortable at first, talking about gun safety is worthwhile and you don't have to be a gun owner to talk about real firearm safety. Project Childsafe has so many resources to make this easier and there are many ways to break the ice and hit the target. Ease your way into it by adding it to your family's home safety plan, when you take the time to talk about what to do during a fire, or other emergency situations. You can take the Project Childsafe pledge with loved ones and share it with others in your circle. Start with close friends and loved ones. When you are comfortable extend it by sharing your experiences and successes with others. This kind of personal experience goes beyond posting articles and images on social media because it's both valuable and personal."
Finally, congratulations on being named the 2022 Woman of the Gun! What does it mean to be named the first-ever recipient of the award?
"It is such an honor to be nominated and included among women in the shooting sports who tirelessly promote firearm safety and education. When I learned I was selected, I immediately felt so humbled and grateful. As a professional competition shooter, competing is a huge part of my life, but for an award like this, it's not a competition, it's a celebration. That makes receiving this acknowledgment all the more special."
Julie also shared her thoughts on being named the 2022 Woman of the Gun on her blog, which you can read here.